Posted by Tony on 27th Aug 2021
The #1 toy manufacturer in the United States of America is bringing two new designs to the Made In America Store! We're excited to unveil the RV Camper Set and the EcoSaucer!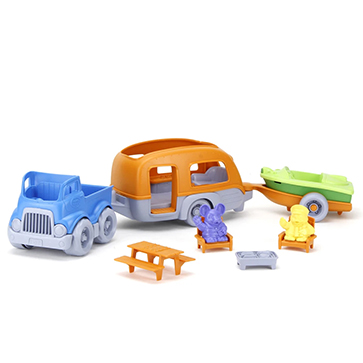 Time to hit the road! The Green Toys™ RV Camper Set is loaded up and ready for an adventure! This colorful, 3-in-1 vehicle playset has something for everyone, featuring a pick-up truck, spacious camper, and sport boat with its very own trailer. Play with them individually, or link them all together for two feet of fun! And don't forget the accessories – two characters, two chairs, a picnic table, and a camping stove round out this 10 piece set with endless narrative play possibilities. Great for indoor and outdoor play, the super-safe design has no metal axles or exterior paints or coatings.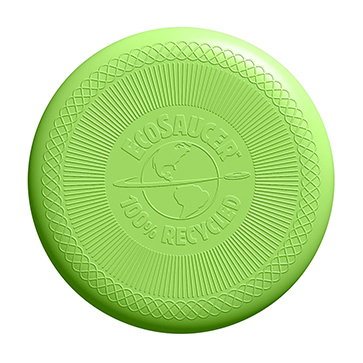 When it comes to environmentally friendly good times, the sky's the limit with this groovy flyer. The Green Toys EcoSaucer™ Flying Disc is made in the U.S.A. from 100% recycled plastic grocery bags that save energy and reduce greenhouse gas emissions. Weighing in at 130ish grams, it soars with Good Green Fun™.
The top concern for every parent in America when it comes to toy purchases is safety. Made from 100% recycled food-grade plastic to no loose parts, Green Toys is raising awareness about sustainability while delivering unquestionably safe products. Green Toys believe that the best way to encourage environmental change is through goods people buy and use every day—and in their case that's children's products.
At its core, Green Toys Inc. has always been an eco-friendly toy company. In fact, the toy company says that to them, "every day is Earth Day." Green Toys' commitment to sustainability and playfulness is part of their DNA and they hope to inspire others to share in this passion.
The Made in America Store and Green Toys care about your kids – how they play, what they play with, and what the future holds. Green Toys are constantly exploring and innovating to deliver the best products possible for a playful planet for all!