Posted by Tony on 13th Nov 2023
All American Christmas Celebration: A Day of Festive Joy and American Pride!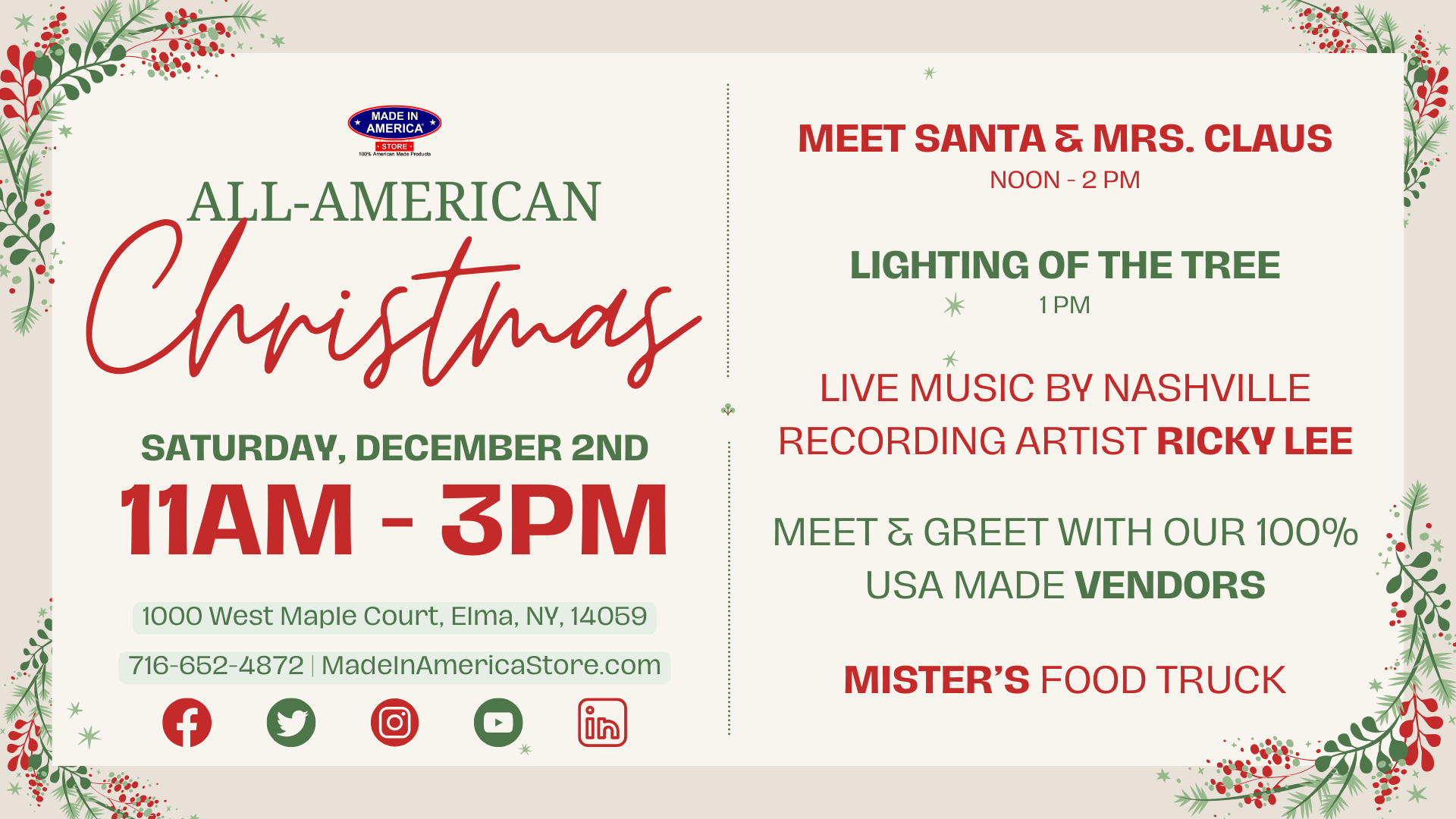 ??? Date: Saturday, December 2nd | Time: 11 AM - 3 PM | Location: 1000 West Maple Court, Elma, NY 14059
Get ready to immerse yourself in the holiday spirit with our All American Christmas event! It's more than just a celebration; it's a showcase of American traditions and joys. Here's a sneak peek of what we have planned for you:
? Exclusive Deals on USA-Made Products
Start the holiday season right with our special offers. From unique gifts to patriotic decorations, everything is proudly made in the USA. It's your chance to support local craftsmanship while finding the perfect items for your holiday celebrations.
? Meet Santa & Mrs. Claus
A Christmas celebration wouldn't be complete without Santa and Mrs. Claus! From noon to 2 PM, bring your kids or just your own inner child for a heartwarming meet-and-greet. Remember to bring your camera for those unforgettable holiday snapshots.
? Tree Lighting Ceremony at 1 PM
Join us for the magical moment when we light up our magnificent Christmas tree. The ceremony, beginning at 1 PM, is a symbolic start to the festive season, filling the air with awe and wonder.
? Live Music by Nashville's Own Ricky Lee
Tap your feet to the tunes of Nashville recording artist Ricky Lee. His mix of country, rock, and festive jingles will add the perfect soundtrack to your holiday shopping and celebrations.
? Delicious Bites from Mister's Food Truck
Keep your energy up with mouth-watering treats from Mister's Food Truck. Whether you're craving something sweet or savory, we've got you covered!
Join Us for a Day of Unforgettable Memories!
This is more than just an event; it's a celebration of what makes the American Christmas experience unique and special. Enjoy a day filled with joy, festive cheer, and the best of American-made products. Let's celebrate the essence of Christmas, All-American style. We can't wait to see you there! ????