Posted by Tony on 25th Sep 2019
Mark Andol, Founder & CEO of Made in America Store, Will Speak at the Nation's First Ever Made In America 2019 Trade Show In Indianapolis Oct. 3-6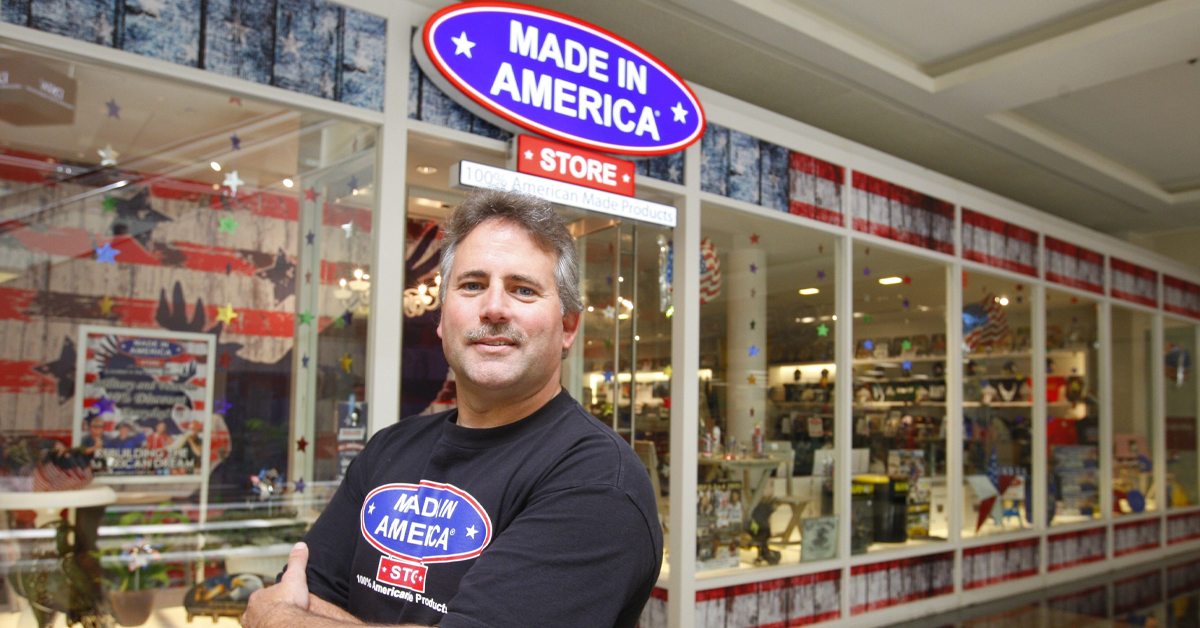 For Immediate ReleaseAnthony M. Falbo
(716) 652-0024
TFalboJr@Madein AmericaStore.com

For nearly a decade, Made in America Store – founded by Mark Andol, CEO of General Welding & Fabricating in the small town of Elma, NY – has reached big milestones in its mission to save and create American jobs by boosting US manufacturing.
It's an economic engine that got the attention of Don Buckner – founder of MadeinAmerica.com – a website dedicated to raising the profile of American manufacturers and increasing demand for American-made products.
Mark Andol will tell his story at the Indiana Convention Center in Indianapolis, a 450,000 sq.ft. expo hall that will be filled with 800 fellow exhibitors and visited by a projected 30,000 persons between Oct. 3 and Oct. 6, 2019.
The brainchild of Don Buckner, Made in America 2019 Trade Show will offer domestic manufacturers an unprecedented opportunity to market their products, inspire innovation and network with prospective B2B suppliers and customers – all with the ultimate, common goal of growing American manufacturing.
"A lot of Mom & Pop shops – the small businesses that are the bedrock of our economy – don't have the financial resources to advertise nationally," Andol began."What Don Buckner is building is absolutely fantastic for the Made in America Movement.We all share the common goal of revitalizing American manufacturing, thereby sustaining our economy on our own manufactured products and our own labor force."
It's clear that Mark Andol and Don Buckner are like-minded and single-focused in their belief that America can and should produce more than it consumes.Don is an entrepreneur himself, whose retirement as CEO of a successful manufacturing company has given him the time to invest in the realization of the American Dream, on behalf of all manufacturers and their employees.
Several years ago, after Don tried to find a variety of American made products online without success, he created his own online portal where consumers can easily find products manufactured in the US.
Mark Andol's humble beginnings followed a parallel path toward their shared goal.Taught to weld by his father, he launched a business out of the garage of his boyhood home in 1989 – 30 years ago.Enhancing his skills through training, he eventually built his welding and engine repair business into a manufacturing company headquartered in Elma, NY, with three additional plants in Western New York.
The flagship location underwent a 48,000 sq. ft. expansion in 2007, when Mark hosted a ribbon cutting and community celebration that was soon followed by the loss of one-half of his business to overseas competition, currency manipulation and the Great Recession.
The years 2008 and 2009 saw the closure of two of his four plants, and Mark's darkest years in business when he was forced to lay off half of his workforce.
Adding insult to injury, Mark's client initially claimed that the lost contract was due to more competitive pricing from a competitor in Florida.That was a lie.The steel product was, in fact, manufactured in China and shipped to Florida, eventually making its way up North – filling American warehouses with a product so inferior in quality that no American manufacturer would have been allowed to produce it stateside.
Out of the sourest of lemons ever tasted by a business owner who truly cares about his customers and his employees came an idea.Sensing that his company was facing a future where closing down his remaining two plants was a likelihood, he summoned forth the entrepreneurial spirit of the young man who – so many years later -- believed the American Dream was not lost for good.
On April 3, 2010, Mark Andol – surrounded by his family, employees, customers and friends – cut the ribbon on Made in America Store, the only brick & mortar store in the US that would only sell 100% American Made Products.Starting with just 50 items, some of which were manufactured at General Welding, most folks thought he was crazy.
Mark put his last ounce of energy and nickel of capital into the belief that Americans would buy what Americans make, if we made it easier for them to do so.Opening the door to Made in America Store was his contribution to this yet-to-be-proved concept.
As the saying goes, "if you build it, they will come."Come they did, 800 curious Americans on the busy Saturday before Easter, in a rural town just 20 minutes from downtown Buffalo.But instead of a typical early spring day, the crowd that was patiently waiting to come into the store and shake Mark's hand were instead warmed by the bright glow of sunshine that produced a 75 degree day – definitely not typical Buffalo weather!
Spirits were as high and reflect hope for a better future for our children.Mark inspired the crowd with his words:"We went to the moon and back and we can't even make a toaster in this country anymore?We have to do something.Together, we have the power to make a difference."
Assisted by a Higher Power, Mark Andol's Made in America Store became one of the sparks that ignited the Made in America Movement.It imparts energy to the movement to this day.
Joining Mark on stage in Indianapolis will be Major Dan Rooney of "Folds for Honor," Darrel Waltrip, former NASCAR driver and current commentator, and Greg Owens, CEO of Sherrill Manufacturing – one of the 500+ manufacturers that supply products to Made in America Store – 9,000 products and counting!Re-energized by Made in America 2019 Trade Show, manufacturing's future is bright!