Posted by Tony on 19th Jul 2021
Whether you're a hardcore football fan or a casual enthusiast, there's no doubt that Josh Allen and the Buffalo Bills had a breakout year in 2019: 10 wins, a playoff run, 3 Pro Bowlers, the defense only allowing 259 points, and more. Training camp is less than two weeks away, and the Bills Mafia has been riding the buzz from last season all year long – Excited doesn't begin to encompass our feelings.
To help drive the hype, we're unveiling our newest 100% U.S.A. made hoodie – The Beasts of the East Hoodie! This collaborated effort from AmeriTee USA and Tipsy, Inc. is our 2021 item for the Bills Mafia.
This vibrant blue hoodie and red interior hood will pop from a mile away. Coupled with American Image's "Beasts of the East" logo on the front and red hood ties, everyone will know you're a Buffalo fan.
This cotton/polyester hoodie is 100% made in America by Tipsy, Inc. in Vernon California, and the log is designed by AmeriTee USA!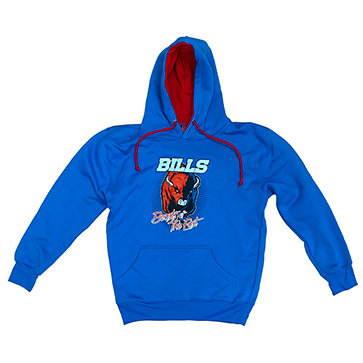 ---
The Made In America Store has worked along AmeriTee USA since our beginning in 2010, manufacturing 100% made in America T-Shirts, Polos, Caps, and more. Tipsy, Inc. is one of our newer vendors that is quickly becoming a customer favorite!