Posted by Tony on 18th Aug 2021
Not too long ago we announced a new American made vendor, Wasted Leather, a 100% U.S.A. made leather belt manufacturer. Today, we're excited to announce that we're expanding our inventory from Wasted Leather to include Children's size leather belts! Wasted Leather manufactures leather belts in Fredonia, NY, not too far from our home base in Elma, NY.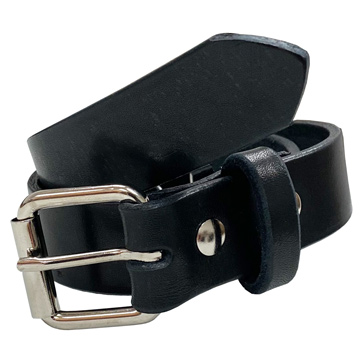 These full grain leather belts are what you would expect to see with the made in America tag on them. Right now, the children sizes only come in black, but we expect to see brown available too, just like our adult sizes.
These classic U.S.A. made belts pair perfectly with any wardrobe: Casual pants, dress trousers, and especially denim jeans! These children's belts feature:
Cut from one piece of whole cut buffalo cowhide leather, guaranteeing a durable, tough belt.
Screw closure.
Heavy duty single prong buckle.
100% made in the U.S.A. by Wasted Leather in Fredonia, NY!
Make sure to shop Wasted Leather's entire made in the U.S.A. leather belts today!